Saree Press Machine, Shawl Pressing Machines
Saree & Shawl Press Machines
(open Model with patent design) :- 
Saree Press Machine  is used for Pressing, Polishing and finishing of  Saree & other textile clothes like Staple, Silk, Cotton, Wool, Tapestry, Chiffon, Georgette, fine Malmal and other Weaving clothes. our Machines are Installed Almost Every big Saree Weaver Houses, Drycleaning Shop  and other Saree Press Units.

Heaters :- This Saree Press machine is available in Electric, LPG gas & steam attachment.
The design of the  machine is patented with patent no. 186122 .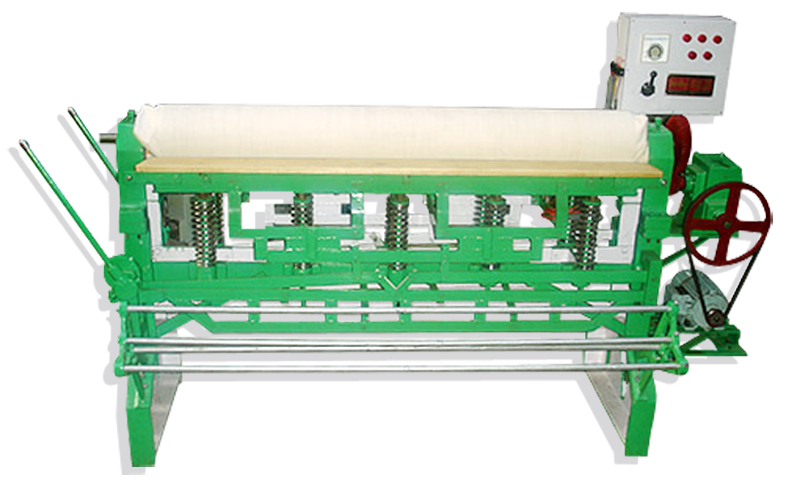 Shawl & Saree Press, Polish & Finishing Machine
Video

Technical Specifications :
Size (in inch)

48"
60"
66"
72"
90"
110"
130"

Roller Dia (In inches)

6"
6"
6"
6"
6"
6"
6"
8"
8"
8"
8"
8"
8"
8"
9"
9"
9"
9"
9"
9"
9"

Heater Plate (In KW)

7
7
7
7
9
12
12

Driving Load ( H.P.)

1
1
1
1
2
2
2
One Roller ::

Machine with one Roller of Heavy Pipe Mild Steel Shaft Roller full Moving with ball Bearing.

Heater Plate ::

Cast Iron make with elements of 400 volts or 220 volts.

Break For Cloth ::

Electric off use Break
Use while stop motion of the Press Machine.

Attention Stand ::

Stand with Roads, for Cloth Attention Loose or Tight.

Feet Foundation of Machine::

Two feet connected with long plates and Rods. 
(No extra foundation required)

Foundation of Motor::

Attach on foot with Railing System Moving Motor All Kinds of Fitting Manufacture.

Driving Load::

One H.P. 440 volts 3 Phase or 220 volts single phase (RPM) in size 48" to 75" & 90" to 2 H.P.

Production Cloth::

Speed in one hour turn 400 to 450 meters Cloths